Three concrete ideas for your home in Stouffville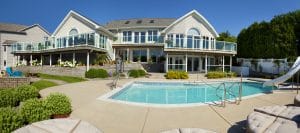 As the warm weather approaches, we begin to think about the various outdoor activities we enjoy with our family and friends. Some favorite activities include grilling or eating outside on the patio, swimming, and enjoying a cozy fire pit under a clear night sky. The new trend taking over many yard spaces is to have designated areas for each activity. Therefore, grilling and dining are separate from each other, a firepit area and lounge area are separate, and the addition of a swimming pool with a separate area to sunbathe or dry off. The best way to incorporate these three concrete ideas for your home in Stouffville is to order onsite concrete pouring. Stouffville Mobile Redimix offers their expertise and concrete pouring solutions so you can enjoy the outdoors comfortably. With onsite concrete pouring, your backyard will be summer-ready in no time.
Outdoor grilling and dining is a favorite spring and summer activity. To ensure your grilling equipment and outdoor dining set are placed on a leveled surface, it is best to consider incorporating a concrete patio. As mentioned, the latest trend that has made its way into many backyards is to have separate areas for a particular activity. For example, one area is designated for grilling or outdoor cooking, and another area is designated for dining. Separate areas maximize the use of your yard and elevate the aesthetic appeal of any outdoor living space.  If you choose to add other elements such as lighting and features for warmth, you can use the dining space all year round.
A concrete swimming pool is a perfect addition to your home in Stouffville. Onsite concrete is made fresh, poured with accuracy to implement any design you choose, and can be made to fit any size yard. Concrete pools are simple to maintain and will last for years to come. A pool is not complete without its surrounding concrete deck or sunbathing area. Having a designated area for drying off or sunbathing gives your backyard a "vacation resort" appeal. Travel has not been ideal due to the current global circumstance. So why not bring a vacation to you!  There is no need to pack a suitcase or pay for a flight; simply walk outside and enjoy.
A designated concrete poured area for lounging offers a comfortable, relaxing space to enjoy alone time or with company. As many individuals work from home, some have turned to their outdoor living space as a serene environment to complete their 9-5 work hours.  Whether you choose to create a space to read a book, meditate, enjoy with family or answer work emails, a concrete poured lounge area makes it much easier.
A fire pit area is also very trendy. Away from outdoor dining and lounging by the pool, a designated concrete poured area is a safe way to set up your fire pit and enjoy summer nights. You may want to add some ornamental concrete retaining walls for additional décor and ambiance.
At Stouffville Mobile Redimix, we can help you achieve the perfect concrete poured additions or concrete poured areas for your home in Stouffville.